Happy Halloween!
A bit of fun for everyone can be found in the many Halloween areas, not only in Yellow but all around AW. Some old, some new, all waiting to delight and give you a fun fright.
Over the years we have come up with a fair few sites to see. Be sure check out past issues of the Y.G. (Yellow Gazette). You will find a great step by step tour done by our Randy which he did in last year's October issue. The only site no longer on that tour is the cathedral. That area has been updated for this year's Halloween Ball.
The Halloween ball's coordinates are Yellow 151.15S 1766.67E 0.67a 273. The party starts at 9:30 pm VRT, on Sunday, October 30.
There are new features which you really need to visit too. You can listen to campfire tales at Yellow 149.77S 1752.53E 0.68a 142. Some spooky stuff there! Be sure to visit the haunted carnival, where more exciting events have been added, at Yellow 146.02S 1770.77E 0.66a 2.
Echo Meadow Towne Hall is at Yellow 150.34S 1700.60E 0.05a 202. Inside find a mini teleport hall with featured Halloween builds from around AW old and new.
WARNING! KEEP IN MIND SOME OF THE OLDER BUILDS MIGHT HAVE SOME DAMAGED FILES. WE TRIED TO PICK ONES THAT ARE STILL IN GOOD SHAPE.
Adventure awaits the brave. Visit the whole Halloween in Yellow and beyond.
Good luck out there, Monsters.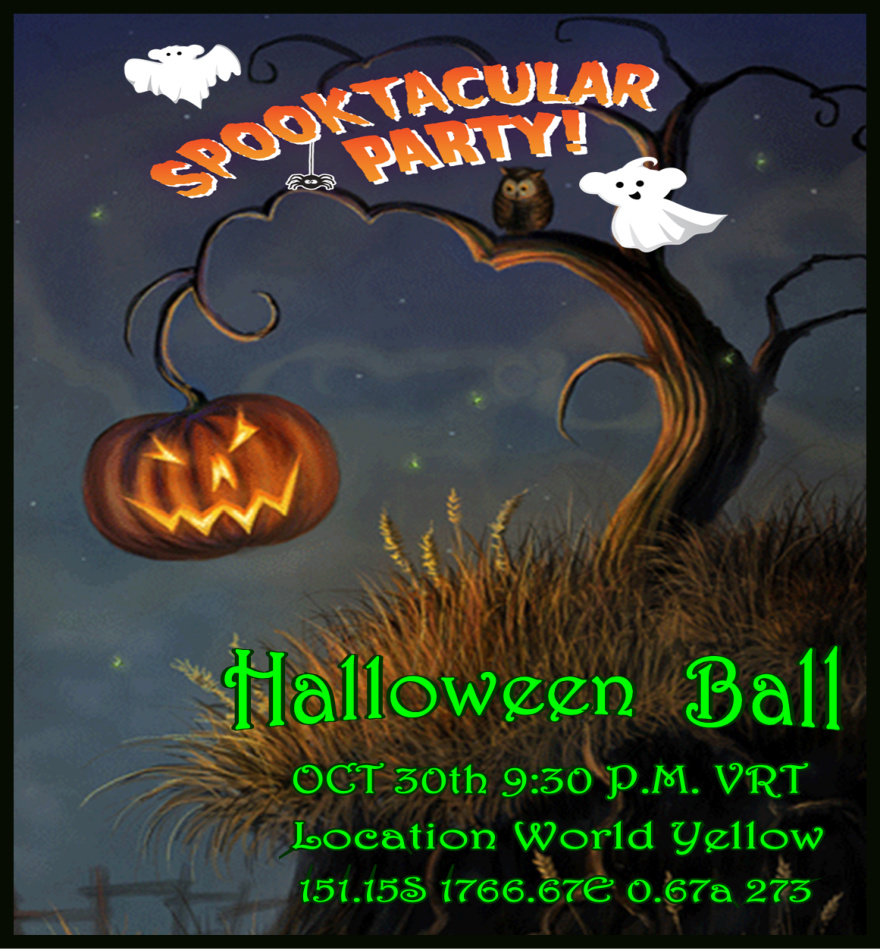 Contacts
Want to contact us? Email the Yellow Gazette at yellowgazette@cox.net, or telegram Apooka or Ozman.
If you do send material to the Yellow Gazette, please be sure to include the name you use for your AV in ActiveWorlds.
Please note that any advertisement pop-up windows that may appear are not endorsed by the Yellow Gazette in any form. These may appear depending on which browser you are using.
Credits
Executive writing staff: Apooka and Ozman
Snippets and gossip: Ms Trudy Tangleclaw
Head Reporter & blogger: Theo. Fuzzybottom
Cub reporter & photographer: Randy Standish
Gardening and landscaping reporter: Ms Nellie Poogawoo
Head, culinary dept: Joe the Caterer
Apprentice Chef: Petal
Feature Food Writer: Cablecar Gal
Interim Office Manager: Pending
Groundskeeper: Mr Crabtree
Financial: Fleesum & Runn
Legal: Dewey, Cheatem & Howe
Staff Health Advisor: Ezmerelda Snowclaw
From the Academy: Prof. Thaddeus Daysong