Preheat oven to 350F (or 180C)

Ingredients for the crust:
7 1/2 ounces gingersnap cookies,around 30 small
3 tablespoons raisins
2 tablespoons canola oil
To make the crust:
In a food processor, combine gingersnaps and raisins - pulse until finely chopped. With the machine running, drizzle in oil and mix just until blended. Add oil and pulse until blended. Scoop the mixture into a 9" springform pan lightly coated with nonstick spray - evenly press the crumbs over the bottom and up the sides. Bake until golden and set, about 10 minutes. Remove and let cool completely on a wire rack.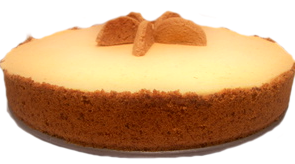 Ingredients for the filling:
1 cup mashed pumpkin
1/3 cup packed brown sugar
1/2 teaspoon ground cinnamon
1/4 teaspoon ground ginger
1/4 teaspoon freshly grated nutmeg
1/8 teaspoon ground cardamom
4 cups vanilla bean ice cream, soften
To make the filling:
In a large bowl, stir together pumpkin, sugar, cinnamon, ginger, nutmeg and cardamom until combined. Add ice cream and stir until well blended. Scoop the mixture into the cooled crust and smooth the top. Cover and place in the freezer until firm, at least 2 hours. It will be easier to cut if you let it slightly soften in the refrigerator for about 10 to 20 minutes before serving.