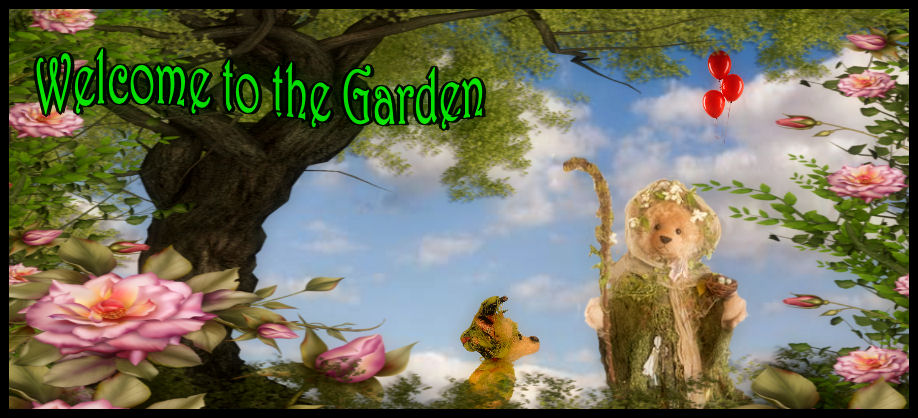 Vol. 5 No. 2 July 2014
Garden Update
Well my little gardeners, we have a tale of wonder and warning.
First up this is what happens when you rush ahead and do not read the instructions.
Our story started about two weeks ago. As you may recall the new Botanicus Jardin II has been under construction for months. And we were nearing completion for the grand opening, last min touches and all that. Well, I have been a gardener for nearly 50 years and I have to say, we were highly worried about the progress of the flowers. Every thing was in place, but all was growing a bit slower than hoped. So I sought out the advice of a dear and long time friend, Madam Celestri, who heads the botanical dept of the magick school. After a short chat she recommended a bit of magical fungi dust fertilizer, something she used for years. It is a product from the Merrow caves, with wondrous effect on all sorts of plants. A pinch here and there, all should be ready for opening day. I bid this gracious lady farwell arranging to send someone to gather the item later that day, as I was off to a meeting at the YG office and could hardly take a load of fertilizer with me.
So you can imagine my surprise when two days later the flowers, in fact every plant in the garden, had grown to an amazing size. This was not at all normal. So I called Madam Celestri who was kind enough to rush right over. It did not take long for her and master Vion to sort the issue.
You can click on the pictures to enlarge them. Taking the mouse off the picture will set it back to the smaller size.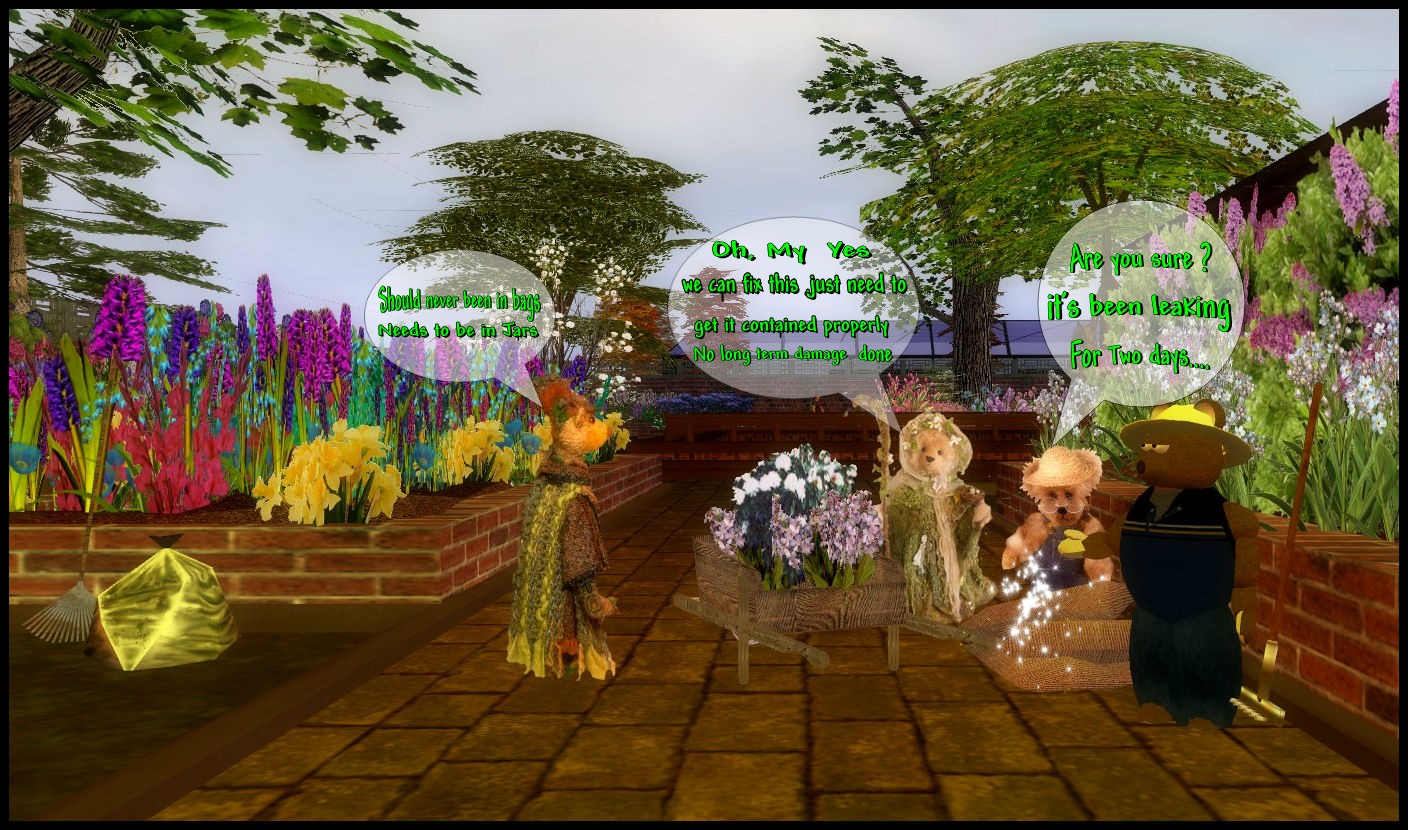 It would seem in my apprentice's rush to pick up the items he did not take the time to inquire as to the instructions for the transport and use of said fertilizer. He simply loaded it in bags and was off, and I have to say in his defense that is generally the way one deals with fertilizer. But this was no ordinary stuff. This was enchanted and well...the result, not to put to much a point on it, let's just say HUGE.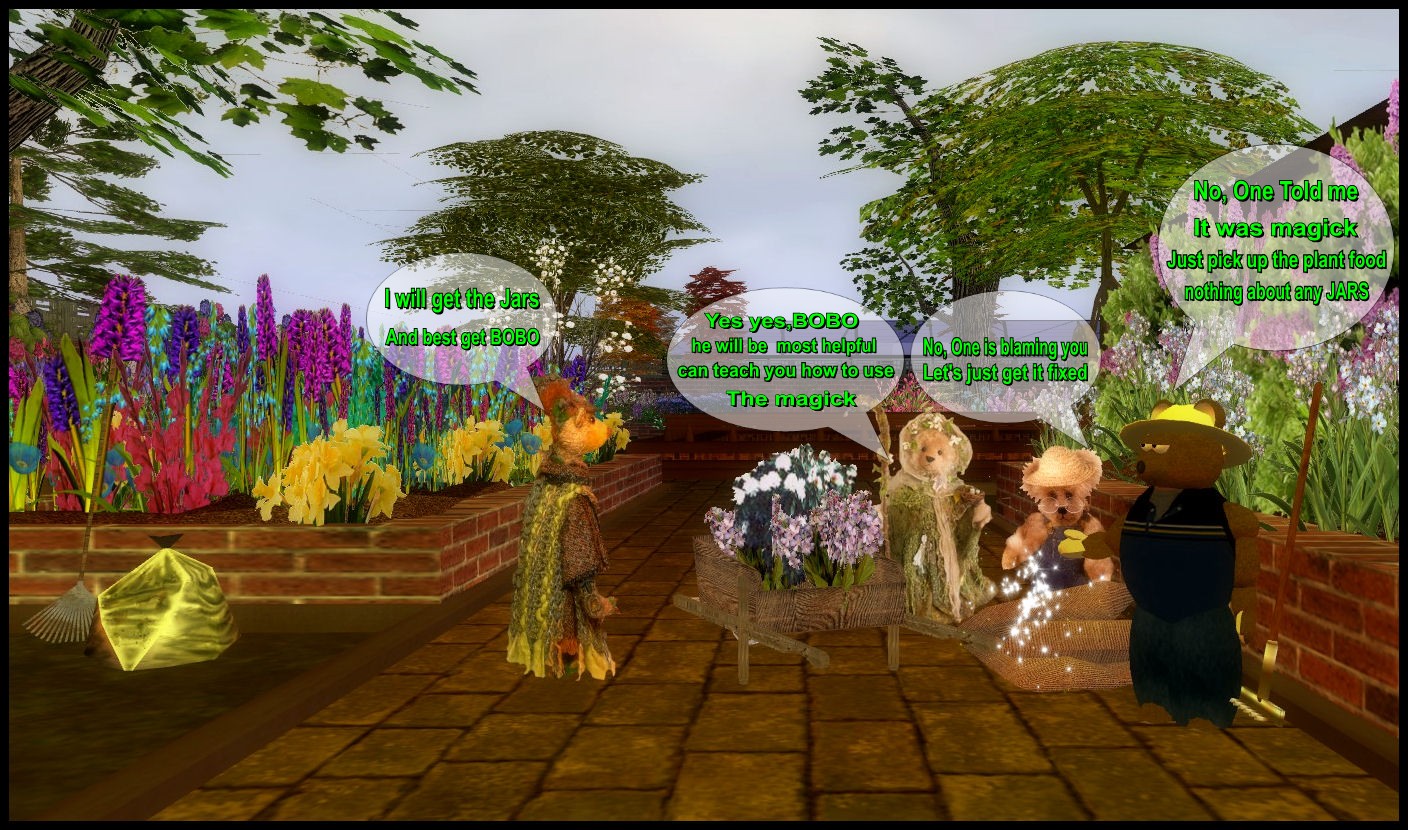 Would seem the normal way to store and transport this wonder is in equally enchanted jars, something Rizzo my apprentice would have found out had he waited around for instructions. It is very important, my young gardeners, to always know what you're working with. Gardens are tricky places. Each plant, every item in the garden should be well researched before we plow ahead blind as a general rule. No good ever comes from rushing a job.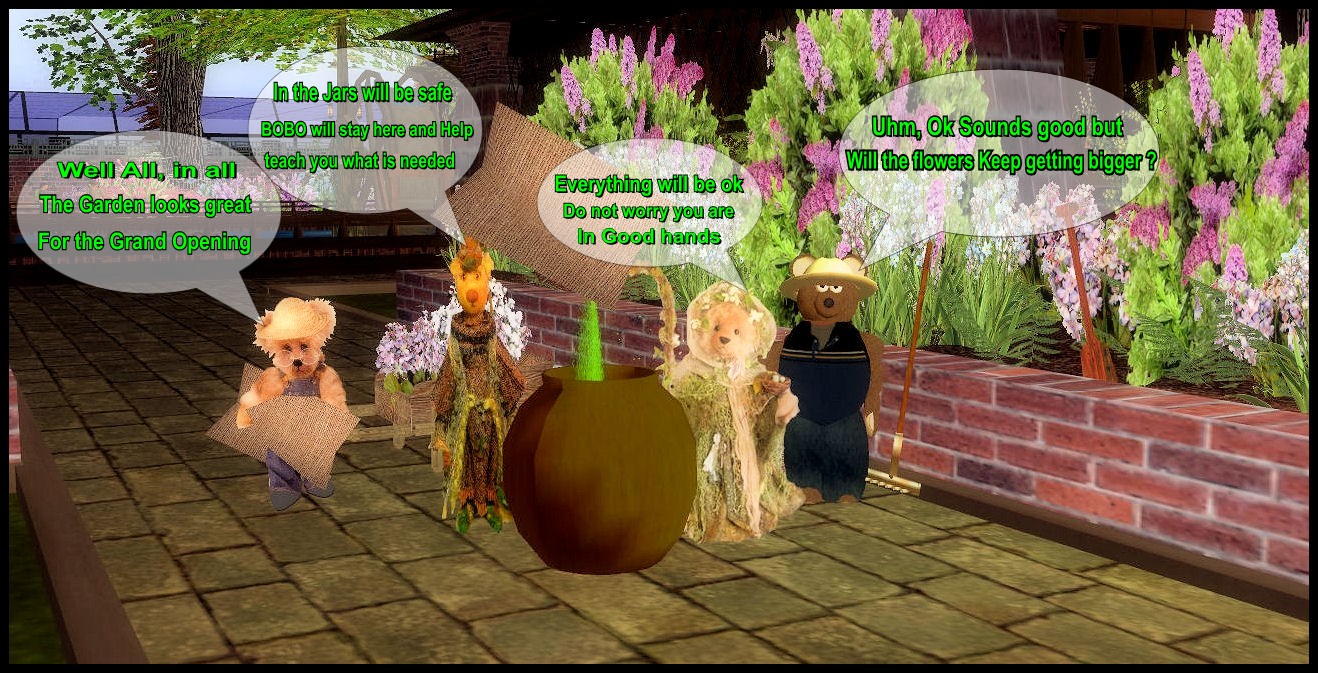 We are grateful no long term damage was done, and a valuable lesson was learned by all. Rizzo will be working in future with Little BoBo from the magick School. Madam Celesti was kind enough to arrange this help. We thank her and all involved in sorting this out. And remember always follow the instruction as you might not be as lucky as we to have a wizard to get you out of trouble.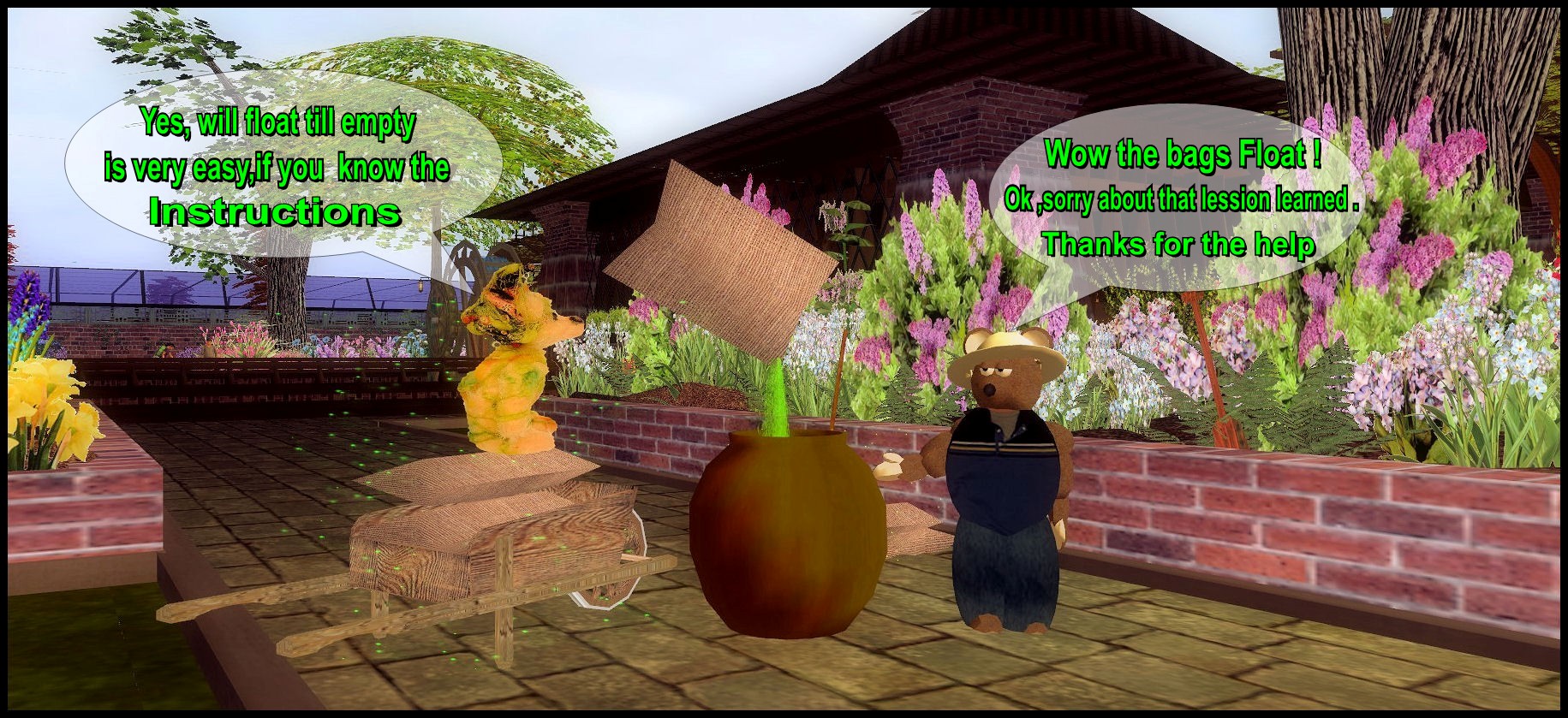 All in all, it has turned out very well. The flower are indeed a sight to see. Be sure to visit us at the Botanicus Jardin II in Steam City soon. World Yellow, Cords 1827.96S 1619.20E 0.57a 180.
Dearest Readers,
Ms Nellie and Mr. Crabtree, in the last issue requested your help to compile a selection of garden and landscape examples, to better showcase the beauty to be found Thru out the Active World universe.
So if you have a build or world you would like to see showcased in future issues. Builds will also be added to the new teleport center.
And the response was wonderful. Thank you to all who have sent in sites and questions. We have the first offerings sent in to be seen on the Build of the Month page.
We are looking forward to see what comes in next.
Send the name of the builder, theme and name of the build, location and landing coordinates to yellowgazette@cox.net (be sure to include you AW users name).
As we may not immediately recognize your e-mail address this will make it easier to sort and give you credit for your submission.(( Also please mark all emails on this top ATT Garden)).
This can be your own build, a friend's build, or even something you have seen you think others might enjoy. The build can be in any world or even be a world itself.
And can be an old or new build. Just to be clear we are looking for all types of landscaping and all sorts of water features as well. so if you have done something interesting with water be sure send that in as well: fountains, water falls and so on.
Sincerely
Ms Nellie and Mr. Crabtree and Fernando and Rizzo
Plants from Nellie


ap_winrose1.png

ap-roses20a.png

ap_des2a_0614.png

ap_rose9_0614.png

ap_lilac_0614.png

ap_border12a_0614.png

Textures


ap_extwood.jpg

ap_bunting.png

ap_cm1b_0614.jpg

ap-window-0614.png

seamless-rope.png

ap_oldbrick22_0614.jpg
Please copy these files to your own directories and do not just link to them.
When you use these plants and textures in your builds, or if you want AW to use them as textures, be sure to keep them as small as possible. AW prefers the graphics to be no larger than 512 x 512 pixels, and preferably 256 x 256 or 128 x 128. For more information, read Stacee's article in the AW Newsletter April 2011, Content for Real-Time Environments.