On this page:

Greetings readers one and all.

The time has come once again to bid farwell to the old and now let us embrace the new path of our travels.

As we go forward, we shall recall all that has happened in an ever growing soft focus that comes with distance and time, and still we hold dear in our heart the memories of the people and events that have touched our lives. Tears we have shed and smiles we have shared are all simple steps along our shared journey. Now is the time to look forward and be the dreamers of the dreams, the creators of stories and the dancers of life. May this next year be all that you need it to be, and we hope to see wonderful things from one and all.

Now is the time for the fun to begin, new plans to be made and old pain to forget. It's time to get all the fun we can get.

Tell us your hopes, your dreams and your plans, and we will share the news throughout the lands. From all of us to all of you, let's hope this new year is a good one thru and thru. Let's get building.
Fuzzy Tales

Hello everybody.

I have a good story for you for this issue. It seems that a distant cousin of mine has had a rather interesting adventure and I just had to share it with you. Check out the Fuzzy Tales Page to see what I mean.
Fun Stuff

From Maxine

You may have seen some wonderful cartoons about a lady of a certain age named Maxine. We present some of her more pithy sayings here, courtesy of the Internet.

On driver safety: I can not use the cell phone in the car. I have to keep my hands free for making gestures.
On lawn care: The key to a nice looking lawn is a good mower. I recommend one who is muscular and shirtless.
On the Perfect Man: All I'm looking for is a guy who will do what I want, when I want, for as long as I want, and then go away. Or wait nearby, like a Dust Buster, charged up and ready when needed
On the Technology Revolution: My idea of rebooting is kicking somebody in the butt twice.
On Aging: Take every birthday with a grain of salt. This works much better if the salt accompanies a Margarita.
Scary! Do you realize that in about forty years, we'll have millions of old ladies running around with tattoos and pierced navels?
Warning! Under no circumstances should you take a sleeping pill and a laxative on the same night!


Sir Lex O'Phile
Aunt Trudy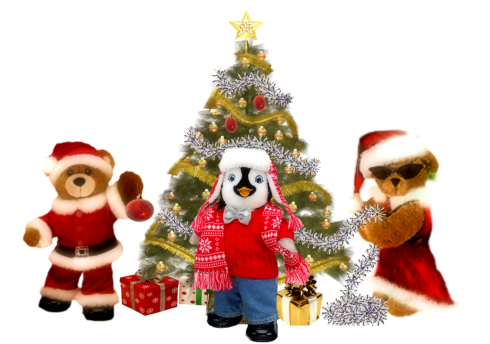 Greetings sweeties:
Well, it appears that the Maw Hoo Nah River Spa features yet again in our writings. This time it's one of the staff who has had a rather embarrassing mishap. Do read all about it in Fuzzy's page.
And speaking of the Spa, a friend of mine who works there has managed to get some very interesting shots of the aftermath of a recent party, which I just had to present in this fine journal, right here.
You may have noticed a new face on the holiday picture above. That's right, dear readers. One Willard Q. Whitelight has joined the staff as our first ever inter-species reporter. Welcome Willy. Now mind you, all different critters in Yellow do get along as well as can be expected, but we thought that someone with a specific brief to look after this interesting area would be an asset to the YG and hence to our readers.
Best wishes to you and all the best for the season, and may the new year ahead be a happy and prosperous one for all.
Bye for now, sweeties.
Aunt Trudy provides news and, well, gossip from Yellow citizens. If you have something you want in the Gazette, just contact yellowgazette@cox.net
From the Editors
The tech gods have not been kind to the YG over the past several months. There has been Internet outages galore, hard drive hassles, and a resulting shortage of time to develop this issue. So, once again, apologies for the late release.
Our thanks to the contributors to the Gazette over the past issues: Cablecar Gal, OzySEO for this issue, and all the others who have helped create the YG. Your contributions are much appreciated.
Having said that, we have some good material to share with you for this holiday season. We hope you enjoy it.
Sincerely
the Staff
Credits

Graphics by Apooka, except where otherwise noted
Web Design by Ozman with input from Apooka
Head Writer Apooka
Building Tips & Newbies Ozman
Snippets and gossip Ms Trudy Tangleclaw
Reporting staff Theo. Fuzzybottom
Gofurr Randy Standish
Gardening and landscaping reporter Ms Nellie Poogawoo
Food reporter Joe the Caterer
Office Manager Ms Lucy Larksong
Groundskeeper Mr Crabtree
Financial: Fleesum & Runn
Legal: Dewey, Cheatem & Howe
Staff Health Advisor: Ezmerelda Snowclaw
From the Academy: Prof. Thaddeus Daysong

Contacts

Want to contact us? Email the Yellow Gazette at yellowgazette@cox.net, or telegram Apooka or Ozman.

If you do send material to the Yellow Gazette, please be sure to include the name you use for your AV in ActiveWorlds.

Please note that any advertisement pop-up windows that may appear are not endorsed by the Yellow Gazette in any form. These may appear depending on which browser you are using.